What is a man's purpose in life?
It can be extremely difficult to navigate the world as a man. There are countless distractions, discouragements, and forms of suffering that can make us all ask the fundamental questions about why we are here sooner or later.
What is the point? 
Why are we here? 
What is the best use of my attention?
What is worth all of the suffering that comes with being alive?
I have been full of questions like this in the past, and I wanted to write this article to form a clearer picture of man's purpose for myself.
I hope that the insights that I have found helpful, can also be of value in your pursuit of purpose as a man. 
What is a man's purpose in life?
A man's purpose can be found through the level of responsibility that he adopts for the world around him, and the extent to which he pursues excellence and growth. Ultimately, men yearn to be of value and to make a real difference with their efforts. 
read also: Too cheap for therapy? Read these books!
Why responsibility is central to man's purpose in life
When researching a man's purpose in life, responsibility is the one word that comes up again and again and again. I have thought extensively about why it is such a fundamental concept.
As men, we have been dropped into an imperfect world full of good and evil. There is immeasurable joy that seems miraculous, and incomprehensible suffering that makes us question our own lives.
We all have gifts we were given, skills we have acquired, and an ability to learn and grow and impact people around us. What is the most appropriate attitude to adopt in this situation we are in?
When you take responsibility in life- whether that be through a career, a family, or fighting for a cause you believe in- You are using the gifts that you have been given to improve the world around you. 
You are looking beyond your own petty gratification, and asking what it is that you can do to make the world a better place. It is a heroic attitude that immediately brings meaning to those who adopt it. 
I think at its core, an attitude of responsibility and action is powerful because it is the opposite of a life of avoiding responsibility and inaction. It is as if there are two distinct paths that we can walk. 
The first path is a path of inaction. Avoiding responsibility. Waiting for other people to  come along and make the awful situations less bad, and the good situations better. We sit on the sidelines and hope for the best, rationalizing that we are "doing the best we can", "It is not our job", and that "we do not ultimately control what happens in the world". All valid points with elements of truth to them.
The problem with this path is that as you walk it, you speak a certain weakness over yourself. You are asserting with your attitude that you are a being to be affected by the world, and not one to have effect over it. You concede your power for the sake of your comfort, and the gifts that you have been blessed with remain undeveloped and theoretical. 
The second path is that of action. Of taking responsibility. Of contending with the imperfections and constant demands of our environment. This path is risky and without end, seemingly growing longer and more challenging the further down it one walks.
By choosing this path, you are forced to think and fail and be held accountable for your actions. The stakes are higher in this way. You might just lose everything. You open yourself up to criticism and opposition. 
The famous quote, by Theodore Roosevelt, puts it best.
"It is not the critic who counts; not the man who points out how the strong man stumbles, or where the doer of deeds could have done them better. The credit belongs to the man who is actually in the arena, whose face is marred by dust and sweat and blood; who strives valiantly; who errs, who comes short again and again, because there is no effort without error and shortcoming; but who does actually strive to do the deeds; who knows great enthusiasms, the great devotions; who spends himself in a worthy cause; who at the best knows in the end the triumph of high achievement, and who at the worst, if he fails, at least fails while daring greatly, so that his place shall never be with those cold and timid souls who neither know victory nor defeat."
Check out former US Navy Seal Joko Willink talking about taking Extreme Ownership in life:
Why men need to chase excellence and constant growth to feel fulfilled
Excellence and growth are closely related to responsibility and action. By developing yourself and working to improve your own shortcomings, you are taking responsibility for your own life and trying to make your internal environment stronger. 
Excellence can be hard to describe, but we all know it when we see it. It is what we all secretly dream of attaining in one form or another. Noone wants to grow up to be an average man doing average things. 
We want to be great. We want to be exceptional. We want to be men of value. This is so deeply ingrained in us all. It is like the calling beneath all other callings. 
A man truly chasing excellence is a man striving with all of his being to fulfill his potential. Until you ask yourself what your best looks like, you can tell yourself about how great you could be. To chase excellence is to find out.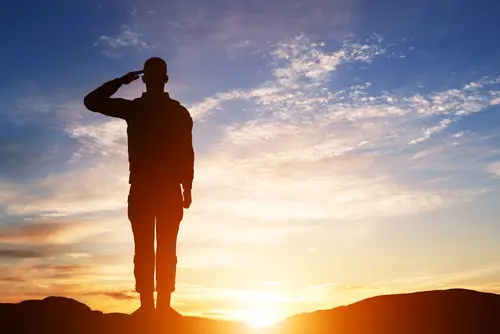 In Thoughts on Man's purpose in life, a powerful talk given by Admiral H.G. Rickover, the great navy veteran had the following to say about the role of excellence in a man's life.
"Another important principle which adds purpose and meaning to life is excellence. Because the conviction to strive for it is a personal one, its attainment is personally satisfying. Happiness comes from the full use of one's power to achieve excellence. 

Life is potentially an empty hole. There are few more satisfying ways of fulfilling it than by exercising excellence."
What do the faiths say about a man's purpose in life?
In the Quran, it is written that the world was created for all men and women to know, worship and obey Allah. 
In the Bible, it says that God created man "for his glory". It also talks about God's purpose for his people.
"And we know that in all things God works for the good of those who love him, who have been called according to his purpose."- Romans 8:28
Buddhism takes a different approach to the purpose of life. The Buddha taught his followers about ending suffering, as well as achieving enlightenment as being the main purposes in life.
"Your purpose in life is to find your purpose and give your whole heart and soul to it"

Buddha
Quotes about a man's purpose in life
"It's in responsibility that most people find the meaning that sustains them through life. It's not in happiness. It's not in impulsive pleasure."

Jordan B Peterson
"You must take personal responsibility. You cannot change the circumstances, the seasons, or the wind, but you can change yourself. That is something you have charge of."

Jim Rohn
"The purpose of life is not to be happy. It is to be useful, to be honorable, to be compassionate, to have it make some difference to have lived and lived well"

Ralph Waldo Emmerson
"You will never be happy if you continue to search for what happiness consists of. You will never live if you are looking for the meaning of life"

Albert Camus
"To be what we are, and to become what we are capable of becoming, is the only end of life"

Robert Louis Stevenson
"I believe that I am not responsible for the meaningfulness or the meaninglessness of life, but I am responsible for what I do with the life I've got."

Hermann Hesse
"Nothing is more creative…nor destructive…than a brilliant mind with a purpose"

Dan Brown
"Life is filled with unanswered questions, but it is the courage to seek those answers that continues to give meaning to life. You can spend your life wallowing in despair, wondering why you were the one who was led towards the road strewn with pain, or you can be grateful that you are strong enough to survive it."

J.D. Stroube
"The greatest thing in this world is not so much where we stand as in what direction we are moving."

John Wolfgang von Goethe
"Find a purpose to serve, not a lifestyle to live."

Criss Jami
"The purpose of life is not to be happy—but to matter, to be productive, to be useful, to have it make some difference that you lived at all."

Leo Rosten
"When faith replaces doubt, when selfless service eliminates selfish striving, the power of God brings to pass His purposes."

Thomas S Monson
"It is not enough to be industrious; so are the ants. What are you industrious about?"

Henry David Thoreau
How do you become a man of purpose?
It is my hope that this article inspires some men to live more purposefully and take more responsibility in their own lives. Here is some practical advice for those of us trying to walk this path.
Aim At something that grips you
Some opportunities in life seem to call us personally. They might be horrible situations that are waiting for someone to step in and improve, or they might be exciting personal goals that keep you awake at the thought of them.
Whilst I do not understand what this intuition is exactly, It does seem foolish to not listen to where this feeling is calling you. When I have felt deeply called to pursue something, it seems like that voice that calls knows me far better than I know myself. 
In a world where a million problems and opportunities present themselves everyday, ultimately we have to choose a path and focus on walking it. If you only have finite time, make sure you spend it pursuing something that grips your attention and brings your life meaning.
Identify the people that really matter to you
In order to make a serious effort of fulfilling your purpose in life, you are going to have to go through a season of cutting back. 
In order to really give yourself to those people and projects that mean something to you, you must first identify those that do not so that you can stop giving them your focus.
Bruce Lee puts it this way:
"It is not daily increase but daily decrease, hack away the unessential"
Have that hard conversation with yourself. 
Of all those people that you talk to and deal with, who really knows you? Who do you really respect? Who really respects you? Who makes you feel strong? Who makes you feel weak? Who humbles you? Who makes you feel insecure? Who inspires you?
Understand what your relationships really consist of, and focus on those people that really matter to you. 
Notice where you give your attention
Alex Hormozi is an American entrepreneur who owns Aquasition.com, a portfolio of companies that makes $85 million revenue per year. In one of his videos online, he had this to say about the power of attention:
"There's this one resource that people who make a ton of money manage extremely well and people who do not do not…a lot of people mistakenly think that the number one resource is time… I would argue that attention is money. That is the golden resource"
Attention is all you have to give. It is where everything in your life stems from.
This website is something that I consider a priority. But if I ask myself how much of my attention gets allocated to this website, I see that I am not prioritizing it in the way that it deserves to be prioritized.
Never mind what you think your focus is on. What are you really giving your attention to? These are your true priorities, whether you like them or not. 
When you realize where all of your attention is being wasted, you can go about reallocating it towards where it would better serve your purpose.
Here are some examples of how hugely successful people manage their attention.
Elon musk doesn't read his emails, and is known to abruptly leave meetings if he considers it unneccessary.
Mark zuckerberg wears the same clothes everyday, so he doesn't have to figure out what to wear all the time
Bill Gates allocates at least 1 hour per day purely to learning, as he considers it a top priority.
Great resources for men looking for purpose
Ultimately, your specific purpose in life needs to come from your own soul and personal situation. It's not like a book can do the real work for you in this case. That being said, there are a few powerful books that I think can inspire and encourage you in a positive direction. Here are the 2 best books I have come across, which make me want to live in a more purposeful and inspiring way. 
An Unsung Hero: Tom Crean
This book is a historically accurate biography of Tom Crean- a humble farmer's son who, by following his intuition and displaying incredible perseverance and bravery, goes down as one of the most heroic figures in the history of polar exploration. 
Never mind vague, feel good self help advice from some guru about following your passion.
What got me so excited about this book is that it describes one of the greatest men of the old world- How he risked his own life to save others and remained unshaken by the most awful situations- in a way that is true to real events. 
I was deeply inspired by this book, as I think it describes the kind of qualities that every man aims to embody. 
Man's search for meaning
Viktor Frankl was a Jewish professor of neurology and psychiatry that was taken to Auschwitz concentration camp during the second world war. 
Frankl is tortured, beaten, starved, worked and frostbitten to the brink of death along with  the 1.3 million other people who were sent to Auschwitz over that period. Of that 1.3 million, 960,000 died in the camp.
What did Viktor see as the difference between those that lived through the suffering and those that died from it?
Of course there are a number of factors at play, but Frankl groups his fellow prisoners into two groups. Those that had faith and hope in the future, and those that didn't. When someone believed that they would die in the camp and that the Nazis had defeated the world, they quickly deteriorated and were crushed. 
Frankl, on the other hand, visualized himself in the future giving lectures to his students about what his experiences had taught him about suffering and the human condition. All of his awful experiences then served a purpose to him.
It was this faith in the future and larger purpose that sustained frankl through thost most brutal times. 
"Suffering ceases to be suffering the moment it finds a meaning"
This book is so profound, that this idea really just scratches the surface of the wisdom gained by Frankl by going through this ordeal. I `would seriously recommend that you make the time to read this book. 
One final point, I recently watched a podcast interview with David Friedberg that deeply inspired me to think bigger about my own purpose and ability to impact the world. A billionaire entrepreneur, Friedberg has the ultimate goal of changing our climate by creating better technologies and products, rather than by discouraging consumption.
Here is the full interview. 
Enjoyed this article? Check out some of our others:
9 People Who Stood Up For What They Believed In