11 Best Movies About Getting Rich And Rising To Power
Imagine a movie where somebody wins the lottery.
What a boring movie, huh!?
The thing that makes movies appealing is the struggle it takes to reach the top. If there was no struggle, you wouldn't be interested.
Below is a list of the 11 best movies about getting rich and rising to power. You will find genres including drama, crime, and more crime.
After all, some of the best movies involve mobsters, right!?
If you're in a hurry, I recommend the Wolf Of Wall Street. It's less violent than other movies on this list; however, it leaves you feeling motivated, confident, and ready to build your dream life!
11 Best Movies About Getting Rich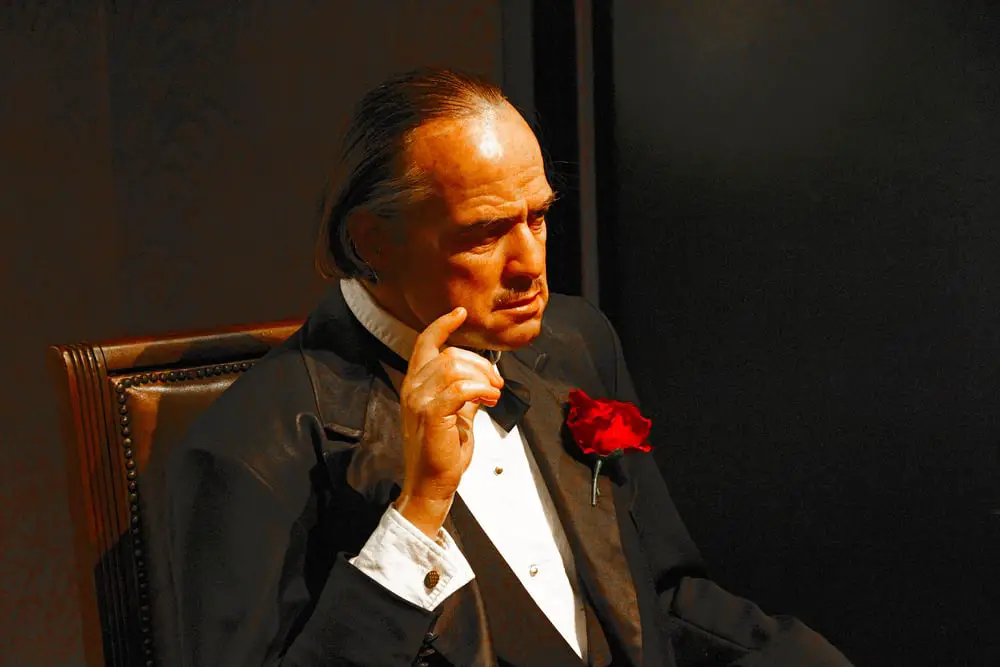 The Wolf Of Wall Street (Best for light-hearted watching)
Catch Me If You Can (Best for a true story!)
Scarface (Best for violent action)
Runner Runner (Best gambling movie)
Casino (Best for action and comedy)
The Godfather (The best Mafia movie)
Limitless (Best for rags-to-riches)
Legend (Best for family loyalty)
The Pursuit Of Happyness (Best for watching with family)
Breaking Bad (Best for squeezing everything out of life)
Power (Best for building an empire)
1. The Wolf Of Wall Street
Leonardo DiCaprio stars in the wolf of wall street as Jordan Belfort, a stockbroker who rose to prominence in the early 1990s and was eventually convicted of securities fraud and money laundering.
The film follows Belfort's meteoric rise and fall, with all the excesses and scandals that come with it.
The wolf of wall street is a true-to-life tale of greed, power, and corruption. It's also one of the most entertaining films I've seen in years.
DiCaprio gives an incredible performance, and the rest of the cast is just as good.
Oh, and get ready to laugh till it hurts.
This movie is filled with hilarious scenes that keep you coming back for more. If you watch it once, you're bound to come back and re-watch!
Favorite Quote:
"I've been a rich man and a poor man, and I choose rich every time!

-Jordan Belfort
Watch the wolf of wall street: click here!
2. Catch Me If You Can
Catch Me If You Can is a 2002 American drama film based on the story of Frank Abagnale Jr. and his life as a con man in the 1960s.
The movie starts with a lawyer making Frank choose between living with his father or mother.
So, he hits the road!
He decides to become an airline pilot by forging some documents: Identity cards that would allow him to be over 18 years old (he was 16 at the time) and a pilot certificate.
Frank successfully passes all the tests (he is apparently very smart). But when it's time for his first-ever flight, he panics and almost gets caught by the authorities.
And a fraudster pilot is just the beginning. Frank's conning abilities allow him to pose as a teacher, doctor, secret service agent, and more.
Oh, and the craziest thing? It's based on a true story!
Favorite Quote:
"Two little mice fell in a bucket of cream. The first mouse quickly gave up and drowned. The second mouse, wouldn't quit. He struggled so hard that eventually he churned that cream into butter and crawled out. Gentlemen, as of this moment, I am that second mouse."

-Frank Abagnale Sr
Watch Catch Me If You Can here!
Read also: 5 Of The Most Heroic Acts In History!
3. Scarface
Scarface is a movie about crime and the American dream. The film follows Tony Montana, a Cuban immigrant who rises to become a powerful drug lord in Miami.
While the plot may not be the most original, Scarface is an excellent movie due to its superb acting, direction, and cinematography.
Al Pacino's performance as Tony Montana is one of his best, and the supporting cast is also excellent.
The violence and language in the film may be too much for some viewers, but overall Scarface is a well-done crime drama.
After watching this movie, I learned the importance of being loyal. In some scenes, Tony betrays the people who helped him up, and it ends up backfiring.
Favorite Quote:
"All I Have In This World Is My Balls And My Word, And I Don't Break 'Em For No One!"

-Tony Montana
Want to see the whole movie? Click here!
4. Runner Runner
Runner Runner is a 2013 American crime drama film directed by Brad Furman and written by Brian Koppelman and David Levien.
The film stars Justin Timberlake, Ben Affleck, Gemma Arterton, and Anthony Mackie. Timberlake plays a Princeton University student who is cheated out of his tuition money by playing online poker.
He travels to Costa Rica to confront the site's owner, Ivan Block (Affleck), only to get drawn into his world of corruption and crime.
If you're in the market for an entertaining but mindless movie, Runner Runner is definitely worth a watch. It has all the usual suspects – devious businessmen, corrupt cops, beautiful women – and it's all wrapped up
I give Runner Runner 4 out of 5 stars. The plot was interesting and Timberlake's performance was great.
Favorite Quote:
"That's the problem with your generation. You guys sat around with your vintage T-shirts and your participation medal, and you never did anything."

-Ivan Block
watch Runner Runner online: click here!
5. Casino
The movie Casino is a classic Brian De Palma film that tells the story of Las Vegas in the 1970s.
The film stars Robert De Niro and Joe Pesci, and is based on the book by Nicholas Pileggi.
The movie follows Sam "Ace" Rothstein (De Niro), a Mafia-connected casino operator, as he tries to keep things running smoothly in Sin City.
Meanwhile, his friend and business partner Nicky Santoro (Pesci) clashes with the local mobsters and quickly becomes a liability.
This gripping crime drama is full of violence, suspense, and betrayal – and it's all set against the glitzy backdrop of Las Vegas.
Alongside the violence, there are also scenes that are comical – in a dark kinda way.
If there's one thing this movie taught me, it's that you need to surround yourself with the right people. While Nicky has Sam's best interests in mind, he is a loose cannon.
Favorite Quote:
"There 3 ways to do things. The right way, the wrong way, and the way I do things.."

-Sam
You can watch Casino by clicking here
Read also: Too cheap for therapy? Read these books!
6. The Godfather (1,2 & 3)
The godfather tells the story of the Corleone family, focusing on the patriarch Vito and his son Michael.
It shows the rise of the mafia in America, and how Michael Corleone eventually becomes the head of the family.
Critics praised the film for its story, acting, and its portrayal of Italian Americans. The movie is considered to be a classic of American cinema.
It's famous for popularizing Mafia-related films.
A sequel was made in 1990 called "The Godfather: Part II" which follows the early life of Vito Corleone and the plot of Michael Corleone in the 1950s.
A third installment was released in 1997 called "The Godfather: Part III" which follows an older Michael Corleone, who has moved to Las Vegas, where he has become a powerful figure within the American Mafia.
Favorite Quote:
"Never hate your enemies. It affects your judgment."

-Mario Puzo
Watch The first Godfather here
7. Limitless
In this movie, Eddie Morra is a struggling writer who can't seem to catch a break. But everything changes when he meets his brother-in-law, who introduces him to a new drug called NZT.
The drug allows Eddie to use 100% of his brain and he soon becomes one of the most successful people on Wall Street. But as with all good things, there is a catch.
The more Eddie takes NZT, the more addicted he becomes, and he soon finds himself in over his head.
The acting in this movie is great and it's definitely an enjoyable watch.
You see how a struggling man can transform himself into somebody of power. Now, you just need to do the same thing – without the drugs, right!?
Favorite Quote:
"What was this drug? I couldn't stay messy on it. I hadn't had a cigarette in six hours. Hadn't eaten. So abstemious and tidy. What was this? A drug for people who wanted to be more anal-retentive. I wasn't high. I wasn't wired. Just clear. I knew what I needed to do and how to do it."

-Eddie
check out the full movie: Click Here!
8. Legend
Tom Hardy stars in the 2015 gangster movie "Legend" as the notorious twin brothers Reggie and Ronnie Kray.
Legend follows their rise to power in the London underworld in the 1950s and 1960s, and their eventual downfall.
The acting in this movie is absolutely stellar, with Tom Hardy completely disappearing into the role of Reggie and Ronnie.
The supporting cast is also excellent, with Christopher Eccleston and David Thewlis particularly memorable.
It has a relatively straightforward plot, but that's not a bad thing – it allows the focus to remain on the characters. The pacing is also excellent, and there are some truly tense moments.
Favorite Quote:
"Did you know that it's possible, right, for a person to become a ghost while there still alive?"

-Ronnie Kray
Want to watch Legend online? Click Here
9. The Pursuit Of Happyness
The Pursuit of Happyness is a 2006 American film based on entrepreneur Chris Gardner's life.
It tells the story of Gardner, who invests all his assets in a bone density scanner with the hope of starting his own medical scanning business, only to find himself struggling.
This leaves him and his son homeless and unemployed.
I like this movie because it's a story of overcoming struggle, pain, and failure. You learn that success is not all sunshine and rainbows.
If you want to go from rags to riches, you need to embrace the difficulties.
Favorite Quote
"You got a dream… You gotta protect it. People can't do somethin' themselves, they wanna tell you you can't do it. If you want something, go get it. Period."

-Chris Gardner
You can watch the whole film right now: Click Here
10. Breaking Bad
Breaking Bad is an American crime drama television series created by Vince Gilligan. The show originally aired on AMC from January 20, 2008, to September 29, 2013.
It tells the story of Walter White (Bryan Cranston), a struggling high school chemistry teacher who is diagnosed with lung cancer. He turns to manufacturing methamphetamine to secure his family's future.
You see Walter's transformation from a meek mild-mannered chemistry teacher to a ruthless criminal – a rich one!
It also shows that when faced with death, there's nothing you can't accomplish. That's why you see people partake in their wildest dreams when seriously ill.
Favorite Quote
"I Have Spent My Whole Life Scared, Frightened Of Things That Could Happen, Might Happen, Might Not Happen, 50 Years I Spent Like That. Finding Myself Awake At Three In The Morning. But You Know What? Ever Since My Diagnosis, I Sleep Just Fine. What I Came To Realize Is That Fear, That's The Worst Of It. That's The Real Enemy. So, Get Up, Get Out In The Real World And You Kick That Bastard As Hard You Can Right In The Teeth."

-Walter White
Not seen Breaking Bad yet? Check out season 1 here!
11. Power
Power is an American crime drama TV series created by Courtney Kemp Agboh for the Starz network.. It stars Omari Hardwick as James "Ghost" St. Patrick, a wealthy New York City nightclub owner and drug kingpin.
With twists and turns throughout, you'll be on the edge of your seat. Things are not always smooth sailing for James.
As the show progresses, there are ups and downs. From losing the nightclub to falling in love, this TV series is packed full of drama.
You see what it's like for a man to lose everything and rebuild it back multiple times.
And I'm not only talking about money. I'm talking about relationships, family, friendships, and more.
Favorite Quote
"When you want that top spot, you're willing to do anything to get it."

Tommy Egan
Here's a link to watch season 1 of power
In Summary
Getting rich and rising to power is highly sought after, to say the least.
And what better way to grab some inspiration than watching a movie about it!?
The films above are all excellent choices. However, most of them are about criminals, so don't get too drawn in!
Enjoy this article? Check out some of our others:
Mental Strength vs Physical Strength Explained